We watched for more home sales and rising prices in 2012. Here's our housing market predictions for next year.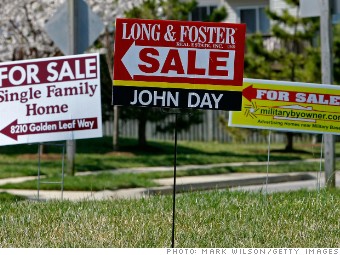 The bust of the housing market five years ago created one of the cheapest times to buy. Across many parts of the U.S., even in some of the priciest markets including New York and Honolulu, it has become cheaper to purchase a home than rent, according to Trulia's Rent vs Buy report. Record-low interest rates on mortgages have also made buying more affordable.
That's changing, however. In 2012, prices hit bottom. Finally! While that tells us the market is healing, it could also mean buying will be less affordable in 2013. Asking prices for homes for sale rose 3.8% in November from a year earlier -- one of the biggest gains since the housing market crashed in 2007. While rents nationwide are still rising faster than home prices, the trend has reversed in 14 of Trulia's 25 biggest rental markets including Denver, Seattle and San Francisco.
MLS Listing Syndication War Rages
UltimateIDX share their views on the MLS listing syndication war developing between MLS Boards and aggregators such as Zillow, Trulia and Realtor.com in several major markets including Denver's MetroList and their recent dropping of Diverse Solutions:
If you check almost any major market in Google you will find sites such as Realtor.com, Zillow and Trulia dominate the majority of the Top 10 slots for all major real estate search phrases.
Many Realtors that are competing for these search engine rankings are unknowingly feeding these mega aggregator sites they compete with by furnishing them listings and populating them with more content.
Let's keep it real. "Content is King" and it is difficult for a local Brokerage to compete with National Real Estate aggregator sites. Major parts of the major Search Engine algorithms are; content (number of pages), visitors, pages viewed and time on the website. So it is almost impossible for "Mom/Pop" Brokerages to compete with National aggregator websites with hundreds of thousands of pages and collective SEO scores from all markets of page views, visits and time on site.
I am a former Real Estate Broker. I come from a family of Realtors. I understand what it takes to solicit listings and then do the workup, measurements, photos and all the required paperwork. So I find it repulsive that I would do all this work, give it away to websites that I compete with and in some cases be charged for any leads that may be generated from it.
Time to Move On or Change Business Model
Aggregators/Syndicators really need to go by the wayside just as the old monthly/quarterly MLS Books (and the Dinosaurs) did back in the day. Option 2: change their business model into a revenue sharing venue with the Agents that feed their websites.
Option 2 is highly unlikely. However in my proposed scenario instead of Realtor.com receiving fees for furnishing listing data (provided by Agents) to aggregators/syndicators without cost, they would pay the contributing Agents on a per listing basis.
Additionally all aggregators/syndicators should be held to the same rules by the Local MLS Boards that their Members are for display of data (listings) owned by the Local MLS Boards.
MetroList Drops Diverse Solutions
In any war there are casualties. Innocents are unwillingly swept into conflicts as collateral damage and the MLS listing syndication war is no different. As for the Diverse Solutions/Zillow situation withDenver's MetroList I really do empathize with the MetroList Members that use Diverse Solutions. And I will be the first to admit that Diverse Solutions is a class act.
A lot of hard work and money goes and into real estate websites and changing IDX vendors creates more expense and work at a time when many Realtors are already in distress. However, I do understand the decision made by MetroList and believe it to be in the best interest of all of their Members.
However, there has been a lot of anger directed towards MetroList over severing ties with Diverse Solutions. This anger would be better directed at Diverse Solutions in my humble opinion. If they were looking for a buyer they should have known that selling to an aggregator such as Zillow would be controversial.
We need not shed tears for Zillow inasmuch as their intentions when purchasing Diverse Solutions were relatively transparent.
Yes it is extremely unfortunate that some Denver MetroList Members have been victimized but they were not done so by MetroList.
Keeping it Real
The truth is Realtors are currently acting as busy little Bees for these gigantic aggregators for very little in return. It really is time to rethink syndication and keep it local within and under the watch and rules of the Local MLS Boards.
NOTE: Portions of this post were submitted as comments on 2 different blogs that were not approved so it developed into a post here.
by Ron Phipps, 2012 Immediate Past President, NAR
So if you are like me, you have been working in real estate for a long time. You think you have seen it all. Your body of work includes lots of transactions, and some amazing human stories, both happy and sad. In real estate we deal with the full range of life experiences.
Our collective experience right now of getting to closing is an obstacle course. Doesn't it feel like the stars are conspiring to knock your transaction off track? Just closed one that ended up with 4 appraisals and weeks of heartache before we got to closing.
So what is happening behind the Wizard of Mortgage Oz's curtain? Am I the only one who struggles to get my buyer to the closing table? The answer is absolutely not.
What we do know is that we have over corrected from the free-flow capital, no underwriting standards of 2004-2006. I repeat…over corrected. Prior to 2004, the average credit score for Fannie Mae and Freddie Mac mortgage was 720; today it is 760. This means that 15 percent of potential buyers cannot qualify.
In the past, pre-approval letters actually meant something. Now, they are a single yellow brick on the road to homeownership. The sad part is that they do not have a lot of value.
So what is going on? The problem is that the market for mortgage backed securities is very limited. The federal government continues to buy or insure most of them, upwards of 9 out of every 10 mortgages. In other words, the government provides the capital to keep the mortgage market, and, in turn, the real estate market alive.
As a result, the mortgage package needs to be perfect and complete. Three years of tax returns and back statements are not enough. Explanations of all deposits and expenses over $1,000 are now required.
You know all of the new requirements. You also know the reality of conditional commitments. Is the lender really committing to the buyer if the 'commitment letter' really isn't a letter of intent? What does that mean for a seller? What does that mean for you? How can a commitment be rescinded two days before closing?
What you need to know is that strict underwriting standards are being applied precisely and aggressively. Some investors will penalize the origination loan company $30,000 if a mortgage defaults in the first year. Yes, that will make the processor obsessive.
We have not even talked about the appraisal process. In general you need direct, like kind sales within six months and within a few miles of the subject. If not, it will be a problem. What is also true is that the "appraisal review" is where the real problems occur. Someone in the process looks at the appraiser's work as something to just pick apart.
All of this is part of the process of compliance…to make sure the package is "perfect and complete."
When Dorothy was lost in the Land of Oz and wanted to get back home, she just clicked her heels three times. I wish it were that easy for REALTORS® and consumers to get back to a place where closings would make it to the table.
In the meantime, what can we as REALTORS® do? Here are a few recommendations:
1. Understand the process, particularly underwriting criteria.
2. Educate the buyers (and sellers) to process and requirements.
3. Be realistic in timelines.
4. Manage buyer and seller expectations.
5. Help buyers identify the lenders that are most likely to provide them the loan.
6. Be proactive in real time with the process.
7. Be active in NAR with Calls to Action and RPAC to improve the situation.
We will get through this…sooner rather than later. See you at closing.